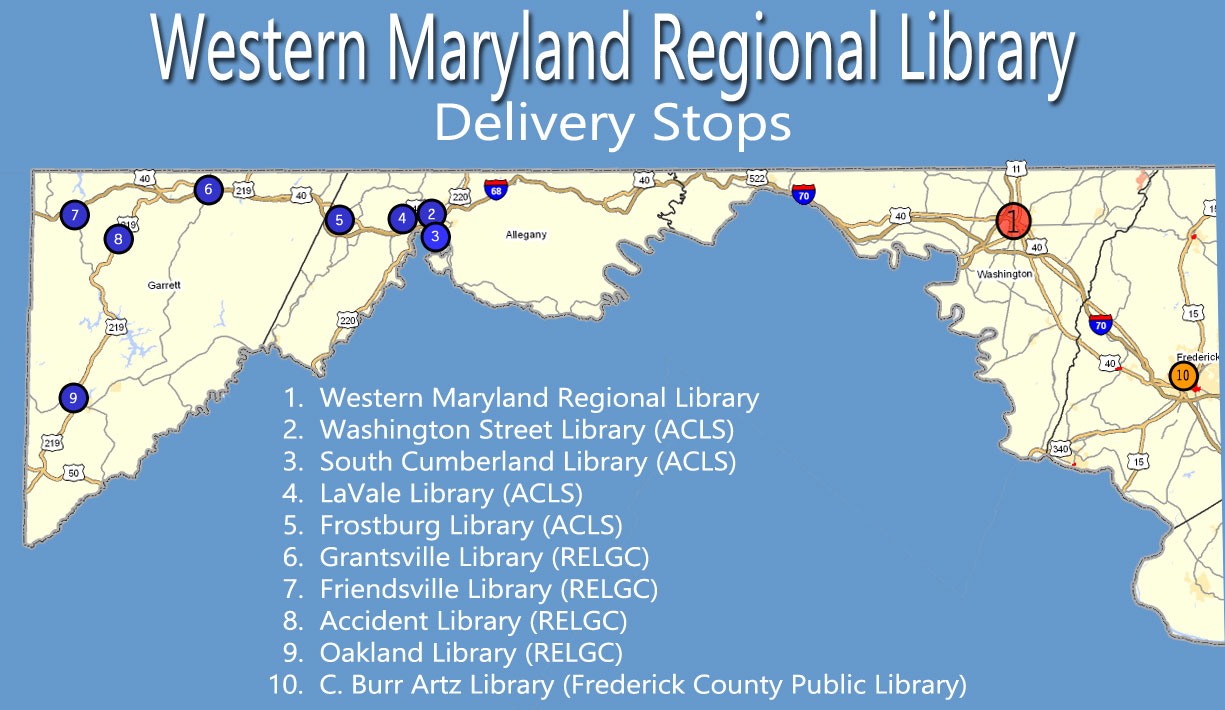 Deliveries are picked up twice daily from WMRL. One delivery goes east to Frederick and the second delivery goes west to Allegany and Garrett counties.

The Library Delivery Driver agrees to perform the following duties:

Provide Monday through Friday, next-day delivery of library materials picked up in Washington, Allegany and Garrett Counties, with the exception of holidays when the libraries are closed and/or inclement weather.
Library Delivery Driver is responsible for locating and scheduling substitutes in order to maintain the continuity of the delivery route.

Delivery is provided to/from these standard destinations:

Hagerstown offices of Western Maryland Regional Library
Washington Street Library (Cumberland) of Allegany County Library System
South Cumberland Library of Allegany County Library System
LaVale Library of Allegany County Library System
Frostburg Library of Allegany County Library System
Grantsville Library of Ruth Enlow Library of Garrett County
Friendsville Library of Ruth Enlow Library of Garrett County
Accident Library of Ruth Enlow Library of Garrett County
Oakland Library of Ruth Enlow Library of Garrett County

We also cover the cost for the driver who provides delivery to/from

C. Burr Artz Library in Frederick County, which connects our regional delivery to the statewide MILO network
Hagerstown offices of Western Maryland Regional Library